Property
The World Wide Web is now 25 years old. I don't recall learning about the web until perhaps the movie "War Games" but didn't have my first email address until 1996 when I got online for the first time at college, where I completed my dissertation in the same year on "Using the Internet to Market Commercial Property", something that I now do every day as part of my business.
The web wasn't new at the time, it had been growing since for 7 years already, but it certainly wasn't mainstream.
My lecturer was very interested and got in touch with the Estates Gazette who invited to write an article on the topic for, sadly I declined as it was during the time when I had to sit for my finals. 
In short I wrote about how important a marketing medium the internet would become, I'll always remember the quote that found from a book (whose title escapes me) who likened the web to a market where everyone had turned out all the lights and whilst the store itself was important, it was just as critical to go out into the market and show people how to reach your site.
Saying that the internet would become important, sounds like a no brainer with hindsight, but my dissertation was really out of left field, time it was a lot more hopeful than it would appear. Few people had mobile phones and fewer people still had a laptop at home unless it was issued by their company.
If you were on the net in 1996, chances are you would be using Netscape 2.0, but there wasn't a lot of things to do online, firms with websites were a rarity, and the outlook wasn't great: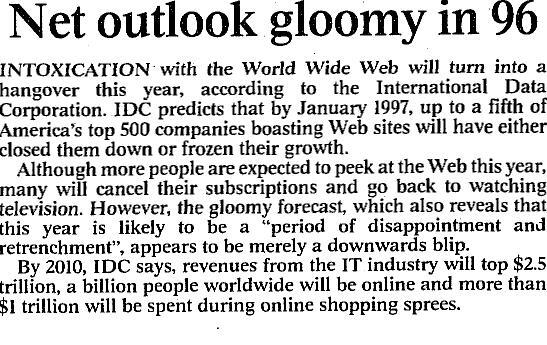 Woe be onto you if you actually admitted to playing video games, which was more than just frowned upon, especially in the 
Luddite
 filled world of the property industry. 
The world, the industry and the web have all changed so much since then in fact everything has been turned upside down. The web has morphed beyond recognition, gaming is  mainstream, and the real estate business is investing and innovating in a technological arms race.So what's next?
My call on next big things are :
1. Drones – drones will become a lot more commonplace, in real estate aerial photography is going to be key.
2. Smart property – by that I don't mean the internet of things (see 4) I mean a method of recording transactions in a public registry using the technology that underlies cryptocurrencies such as Bitcoin, the Blockchain (remember that word, it's going to be important!)
3. The internet of things- when many talk about the IoT they refer to wearable technology like my Pebble smart watch , or Google Glass, but these are, for now, small conveniences, nice to haves but not essential. No, what I am interested in is Smart Cities where tech is employed to enhance the efficiency of city wide infrastructure, and improve the quality of life through innovative environmental management. This could see much greater community participation in how our cities develop and are run
Go Google some of these things. Its an amazing world that we live in, so take advantage of it!
I recently was asked to share my thoughts on how the formation of the ASEAN Economic Community in 2015 will affect the Thai industrial real estate market at the RICS ASEAN conference held in Bangkok earlier this month (edit:July 2012)
What follows is more or less the transcript of my speech.
The AEC certainly seems to bring about a sense of optimism, perhaps it's the free flow of skilled labour and the opportunities it will bring? I think so long as barriers such as language and culture can be overcome, skilled workers will seek out opportunities and better pay.  For example, accountants can demand much higher salaries in markets such as Singapore and Malaysia where they can command almost three times as much.

After the formation of the European Union their share of the global FDI inflows rose from about 30 percent in the 1980s to about 50 percent in the 1990s and has until recently remained there since.

The formation of the AEC, which aims to create a single ASEAN market and production base, is also expected to lead to greater economies of scale that would improve its competitiveness and make it more attractive to foreign investors.

Industrial properties caught up in the ever growing realms of global production networks, are at the forefront of globalization and as such this is the sector that we expect to be the most directly affected by the formation of the AEC.

To assess how much FDI will come to Thailand and affect the real estate sectors here I think it's useful to understand how Multinational Manufacturers select which country to invest in.

Knight Frank helps firms to do just this. In our experience firms have four major criteria that they use to assess and select a country for investment; Cost, Capability, Market Access, and Risk.

Cost is perhaps the most obvious and accounts for about half of the total weighting in the firms' decision making analysis.

They seek to reduce set up costs and so look for markets with the lowest capital expenses, (such as land acquisition & construction costs),

They seek out the lowest operating costs (wages, utilities, rents, taxes etc). and it is in this category that they account for the impact of investment incentives from governments and developers.

After which firms look at the depth of capability that the country has to offer its manufacturing operations.

The Quantity and quality of the Human Resources: their skills, qualifications, productivity, and standard of English.

They require world-class infrastructure, in the form of roads, rail, ports and the access that subject locations have to these transport modes.

They seek data on the interruptions and availability of utilities: water, power, natural gas

They prefer markets with established production networks: where an agglomeration of efficient suppliers, competitors, support institutions and service providers are present.

The next category that they look at  market access, where they seek the lowest lead times through close proximity to their customers or suppliers in the local or regional markets

Then finally, risk is considered. In our conversations with manufacturers the biggest risk that they seek to mitigate before all else, is the security of their intellectual property.

Before they invest they will look at the willingness and effectiveness of government to provide written IP protection commitments.

They will then consider other risks such as government stability and the frequency of natural disasters.

I have read this week that some are concerned that demand for industrial estates in Thailand will fall after 2015: I don't share that view. Investments continue to flow to Thailand despite rising land values and wages, in fact Thailand already finds itself in the position where it has become difficult to compete on cost with countries like Cambodia Laos Myanmar and Vietnam. The sunset of the Thai garment industry is a testament to that.

For firms whose sole driving force is cost, and only require low or semi skilled labour the CLMV nations will look increasingly attractive as their physical and legal infrastructure and linkages with ASEAN improves.

But, this will take time, and whilst cost is important, from a manufacturers perspective, the other criteria (capability, market access & risk) when taken together are given just as much weight in their decision making analysis, and it is here that Thailand competes today, and not just with its ASEAN neighbours, but on the world stage, against such countries as China.

To attract more manufacturing FDI after 2015, the challenge then for Thailand will be the same as it faces today: to compete higher up the value chain.

It is not reasonable to expect to turn back the clock and compete against CLMV on costs, so implementing well thought out policies designed to upgrade the industrial infrastructure and human capital will be vital. But it certainly won't hurt to reduce expenses either.

One of the stated aims of the AEC is to create an integrated and harmonized customs landscape to promote the Free Flow of Goods.

It will take time to iron out the kinks, but improved logistical linkages with the member states of the AEC should reduce the transportation costs of goods and raw materials, boosting ASEAN competitiveness.

So as countries invest in infrastructure and create new trade routes, we can expect to see demand for integrated-logistics space increase at strategic transport hubs, but

We believe that most of the growth will be organic, increasing in line with manufacturing FDI centered close to existing industrial hubs, however we may also expect to see some growth in distribution centers as more ASEAN made products find their way to the Thai market.

BUT I don't expect 2015 to bring about rapid change.  We have been moving towards the AEC since 2006.  Its effect is already being felt; it seems that every week another firm announces an investment that positions them for future growth due to the AEC.

Last year Thailand's biggest export destination (24%) and its second biggest supplier (after Japan) was ASEAN itself, and as the ASEAN economies continue to mature, and the inter-industry linkages deepen, the opportunities should grow too.

So the three key takeaways that I'd like to leave you with today are:

 The AEC increases competition for all and therefore creates opportunities both at home and abroad.
The impact on the industrial real estate sector is already being felt today, and the growth will continue as we move towards 2015 and beyond
But it is the implementation of policies to upgrade infrastructure and human capital that will be vital if Thailand is to capitalize on all that the AEC has to offer.
So how about you? How do you feel the AEC will affect your country / market / business?
Ahh hello, my poorly neglected blog readers, it's nice to be back.
Now this time Im back because there's a topic that's close to my heart that is simply too big for Twitter and will be of little interest to my friends and family on Facebook and perhaps even to those no real estate folks who follow me on twitter.
It's those wonderful testaments to ambition, ego, ingenuity, innovation and engineering mastery: skyscrapers.
The next post (or two) will be specifically about the race to build the world's tallest buildings, a topic that has been getting some press recently, so I thought I'd weigh in with my two satang as well.
But first some context, as my loyal readers will know I come from Plymouth, a coastal town home to 250,000 or so people, located in the county of Devon, in the sleepy South West of England. Where most buildings in the city center stand at no more than 5 or 6  storeys.  So buildings like the Civic Center, all 14 floors of it, stood out and today it still dominates the skyline.
That is until the developers are able to source funding for their approved 31 storey mixed use development: Oceanique .
But as funding for that project seems to be elusive, for now the Civic Center will share Plymouth's skyline, with the very few other tall buildings, like Chichester House and Smeaton's Tower, a much loved candy cane coloured faux lighthouse standing watch over Plymouth Hoe.
So I think its fair to say that my first proper encounter with a true skyscraper was on a university trip to La Défense , Paris, where we had the opportunity to visit the impressive Tours Société Générale
I freely admit to being awestruck by the development, its towering glass, imposing lobby and features such as VAV, personal climate control, light sensing shades, that blew my 20 year old mind clean away.
That one visit changed the way I thought about real estate and instilled in me with a deep interest in skyscrapers, and the effect that they have on markets, cities, and us.
Then as luck/fate would have it, I found myself working with skyscrapers every day in Bangkok
I arrived in the midst of the so called Tom Yum Goong [eugh I despisee that terminology] or Asian financial crisis of 1997, just a year after Malaysia unveiled what was, until 2003, the world's tallest building: the striking Petronas Towers. A building that raised Kuala Lumpur's profile, putting it on the global map (perhaps helped just a little by Sean Connery and Catherine Zeta Jones)
The building has practically become a symbol for Malaysia itself, representing much more than its component parts. But as an investment (albeit one initiated by the states) it only managed to fill up after Petronas moved in and attracted most of the other oil and gas firms to gradually take up space over the years after it opened its doors.
The impact its opening had on the market in the wake of the crisis was significant. Occupancies plunged 18% to a little better than 80% upon opening before slipping away to 70% as the crisis took hold.
So was this a coincidence?
Well, my next post will take a look at this and the so called Skyscraper Index [of doom] in a bit more detail.